8 - DAYS OFFER, 7 NIGHTS
One week of pure hiking happiness
Hiking is super good for an healthy lifestyle. Heart and circulation as well as musculoskeletal system and immune system are going to be strengthened. On top of it all: Hiking will make you happy! In Lorch - one of the most beautiful landscapes in Europe - you will find the key to pure hiking happiness. The best part about it? The hiking area Wispertaunus and its Wisper Trails open a new chapter for us and each happiness seeker. So, what are you waiting for?
Bookable all year depending on availabilty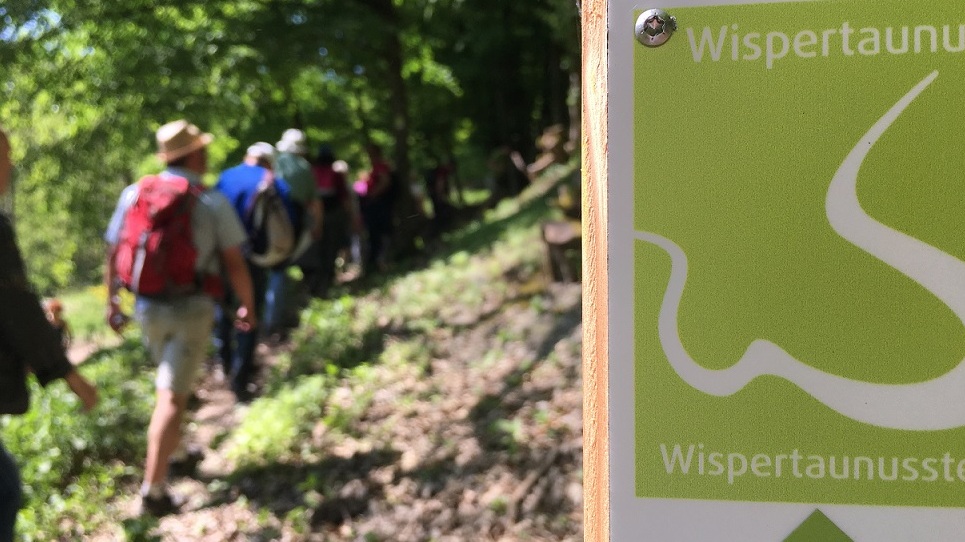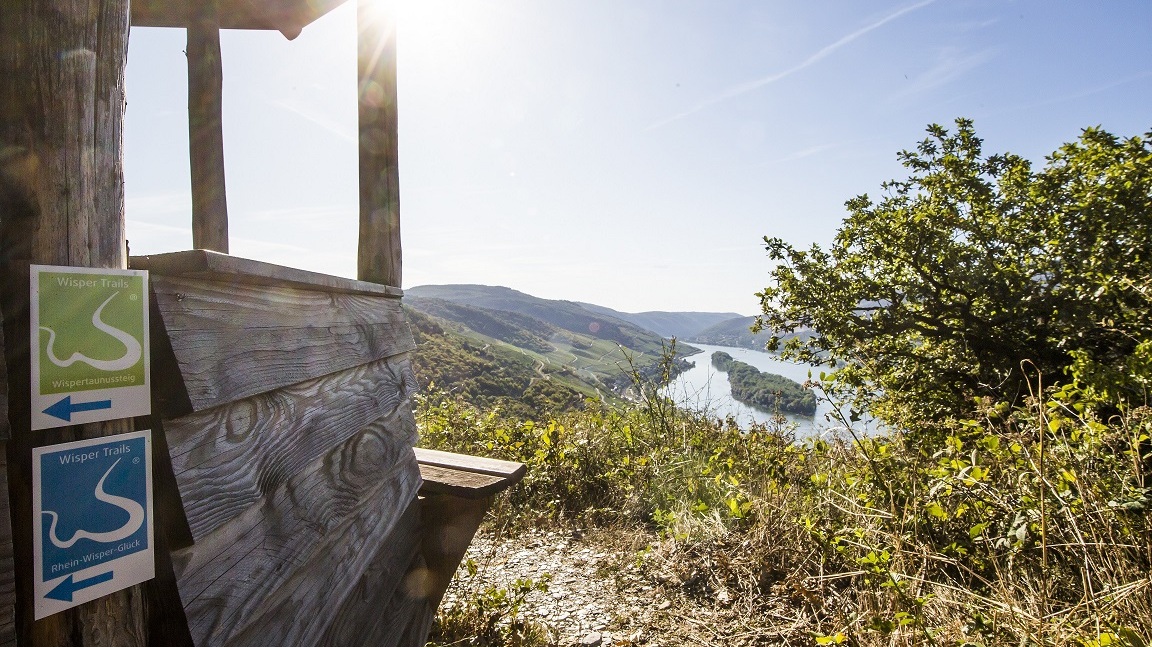 These are your individual moments of happiness:
Hiking on very well signposted trails
New tours on a daily base, starting point is our hotel
Delicious self-prepared lunchbags
Sometimes sporty, sometimes comfortable and joyful on the way
Diversified area: Forrests and meadows, rhine and vineyards
Views and insights - eye candy and soul massages for people suffering from stress
Arrive and start hiking. All important information in the hotel
Hiking loving hosts, lots of know-how about the ares as well as the most beautiful hiking trails
Feast: In the morning having breakfast, in the evening in one of the restaurants and wine taverns in Lorch
Chillout on the hotels' sun terrace, enjoying a great selection of wine. Note: Lorch' wines will make you happy!
The Wispertaunus - a stroke of luck:
Wisper-valley and Taunus - two beautiful landscapes forming a wonderful hiking area: The Wispertaunus. Its centerpiece is the "Wisper" - a 29 km long tributary of the rhine. It is a world apart: A lot of unaffected nature, encounters along the foodpath you'll be amazed about. Dreamy trails surrounded by old trees, which could tell many stories. Rocks piling up like saga figures. Views and insights, mountains and valleys, crystal clear water and never heard silence - that's what you are going to experience. Hikers tell about dear encounters on a regular base. With a lot of luck you are going to see ospreys on their forays or kingfishers wearing their shiny dress. You are in need of a bit more luck to see a rare black stork. Not only salmon but also wildcats and bobcats are back! But encounters do have special rarity value. Racoon families are less shy - they are widespread here. In the evening bats leave their hiding places.
The famous Rheinsteig - Moments of happiness step by step
The Rheinsteig is a lucky strike for our area. It is a magnet. 320 km of trails with great views starting in Bonn and ending in Wiesbaden. Of course, it also works the other way round. Everyone is talking about the Rheinsteig: Certified in 2006 and awarded with the German hiking signet as a premium trail. It really is something special. Good to know: You won't enjoy the company of the river rhine all the time. But following our recommendations you are going to see the rhine - actually from the very top.
Our recommendations for your ways to happiness:
The Wisper Trails are still an insider tip for hikers. Signpostings move purposefully towards their completion. We recommend 3 - already signposted - tours:
Route "Wispertaunussteig", section Lorch to Sauerthal, ca. 10 km
Circular route "Rhein-Wisper-Glück", ca. 11 km
Circular route "Wispertalsteig", ca. 14 km
The Rheinsteig completes your hiking happiness. We picked two tours starting right at the hotel with great views for you:
Lorch to Kaub, approx. 13,5 view-ful kilometers. Return by train.
Lorch to Assmannshausen / Rüdesheim, approx. 19 - 23 km and maaany rhine views. Return by train or boat.
A pleasant tour - by chairlift, cable car and boat. Visit the famous "Germania", glide over vineyards, visit the "Drosselgasse" and make a boat trip on the rhine. We offer you a ticket for the whole round trip and we are sure: You are going to come back feeling very happy.
Included services "One week of pure hiking happiness":
7 nights including substantial hiking breakfast buffet
3 recommendations for hiking tours in the "Wispertaunus"
2 recommendations for hiking tours on the "Rheinsteig"
1 round tour ticket: Chairlift - cable car - boat trip (from April 1st,2023)
1 x 2 - course dinner in a partner restaurant in Lorch (until March 31st, 2023)
5 x lunchbags for your hiking tours (self-prepared at the breakfast buffet according to your wishes and tastes)
1 anniversary gift
1 bottle of water upon arrival on your room
WiFi
More information for your arrival and stay
Dinner
We are a bed & breakfast hotel and offer our guests a substantial breakfast buffet. Every culinary establishment in Lorch is located within an easy walking distance from our hotel. Not only the winemakers offer you a wonderful food selection in a very special atmosphere. Feel free to book a table prior to your arrival. Check out a list of wineries and restaurants here.
For the sake of our environment
As part of our cooperation with VIABONO, we offer our dear guests, the possibility to make your overnight stay climate neutral with us. That does not cost you more than 0,40 € / night / person, the whole amount goes into an environmental project. Thus, you can actively contribute to making our hotel a complete climate-neutral accommodation business.
Cancellation of package offers:
Please note, that we're accepting cancellation in a written form free of charge up to 14 days prior to arrival.
Later cancellations or no-shows will be charged with 90% of the agreed package price. Minimum lenght of stay 2-3 nights on weekends (April to October).
| | |
| --- | --- |
| Double room standard | from 375,00 € |
| Double room comfort | from 420,00 € |
| Penthouse room | from 525,00 € |
| Penthouse suite | from 682,50 € |
| Double room for single use | from 560,00 € |
| Double room for single use comfort | from 455,00 € |