An Eldorado for motor sports fans
It's certainly not only the hairpin bends that attract motor sports fans on beautiful days in the ruggedly romantic Wispertal. At the pit stops where you can satisfy hunger and thirst and stretch your legs, you can always find soulmates. But if its peace and quiet you're after or to stand and marvel at the scenic landscape, the defiant castles, abrupt cliffs and corporeal meadows, this is the place to be. There is much to discover along the Wisper and right and left on the bed of Father Rhine. Pure driving pleasure for all - whether on two or four wheels, with a motorbike or motor scooter, chugging along at a leisurely pace in a vintage car or at a tearing pace in a convertible.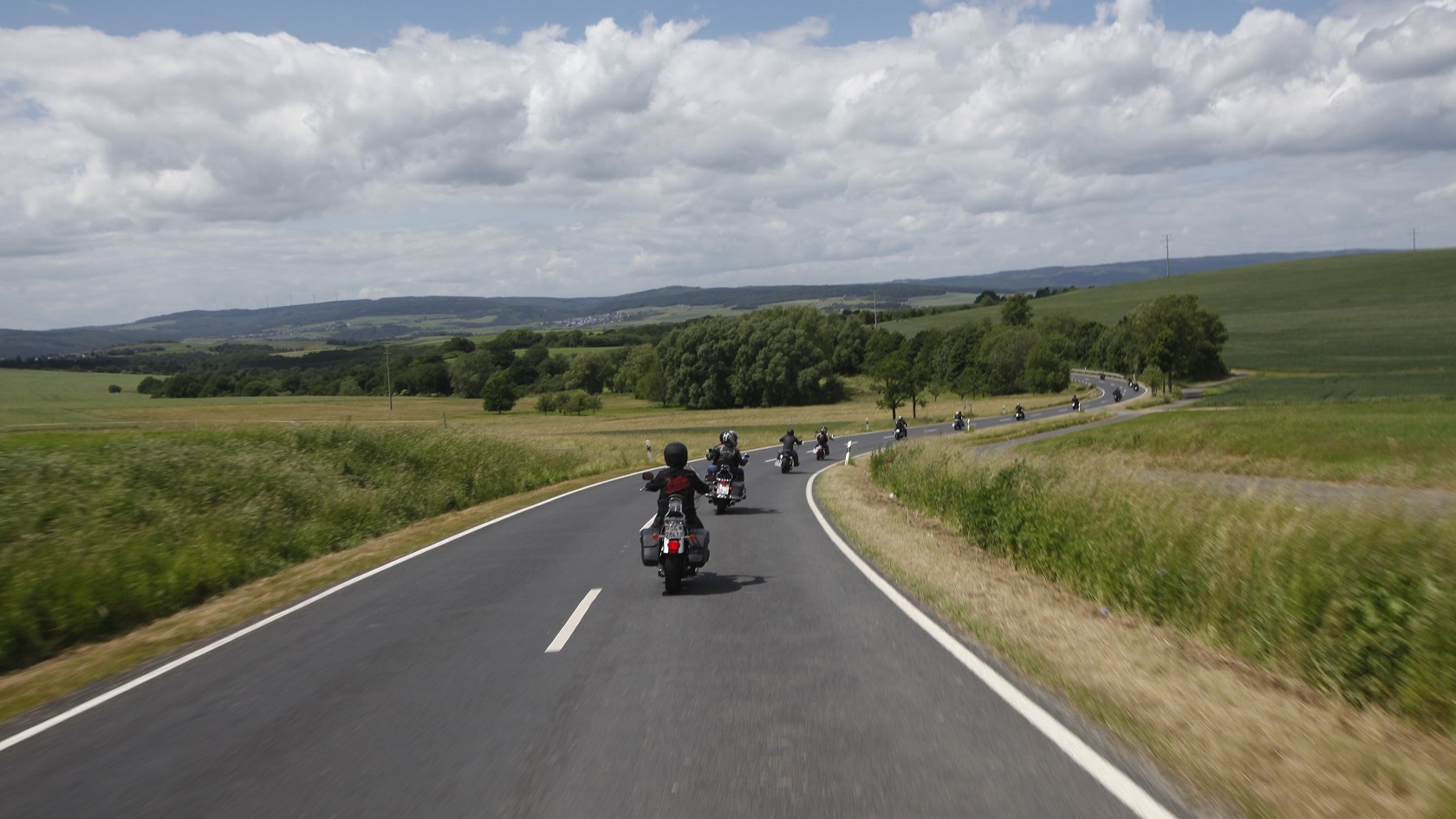 Bikers welcome - others too!
Take us at our word! We provide a warm welcome for bikers and everyone who is more than happy to go on long drives with the motorbike of their dreams. We offer secure parking for two wheelers - clean and dry. On request we also reserve adequate parking for valuable vintage cars. Our parking place is directly at the hotel. Of the four carports two are lockable. We don't charge parking fees and also provide our carports free of charge. You can store and dry your motorcycle equipment in a space for sports equipment and sportswear. A washing machine and dryer is also available here.
Highlight: Magic Bike Rüdesheim
Motorcycles from all country estates, festival feeling and endless driving pleasure - that's the "Magic Bike" in Rüdesheim am Rhein. Every year at the Corpus Christi-weekend, from Thursday to Sunday, it's happening. Around 30,000 bikers from all over Europe and overseas come every year - not only buddys with their Harley Davidsons. In the evening you can rock your socks off at the event premises with name bands and top acts. There are also several stands with original accessories and great gifts for motorcycle fans. The basic programme is supplemented with organised drives through the Rhine valley and into the backlands. The absolute highlight is the Saturday parade.
More information under: www.magic-bike-ruedesheim.com
Sporty on four wheels
The organizers have advertised Ransel classics with the slogan "The green hell on the mountain". Hill-climbing for which uniformity is important, is done yearly on Ascension Day, Thrusday to Sunday. For the event the main road between Lorch and Ransel from the approach to the Ranselberg will be closed for three days. A road around six kilometers long with 52 bends and 300 meters height difference marks the competition site. More information under: www.ransel-classics.de
Reservation
If you book directly online at our webside you will save your best price.

Everything is fully booked? We are happy to check the availability of residual quotas, please contact us by phone at +49 (0) 6726 80716 0 or through our contact form.
Your Hotel in the Rhine Valley
Impressions