Vacations on four paws
Spending the best time of the year with the humans' best friend: Holidays with your four-legged companion!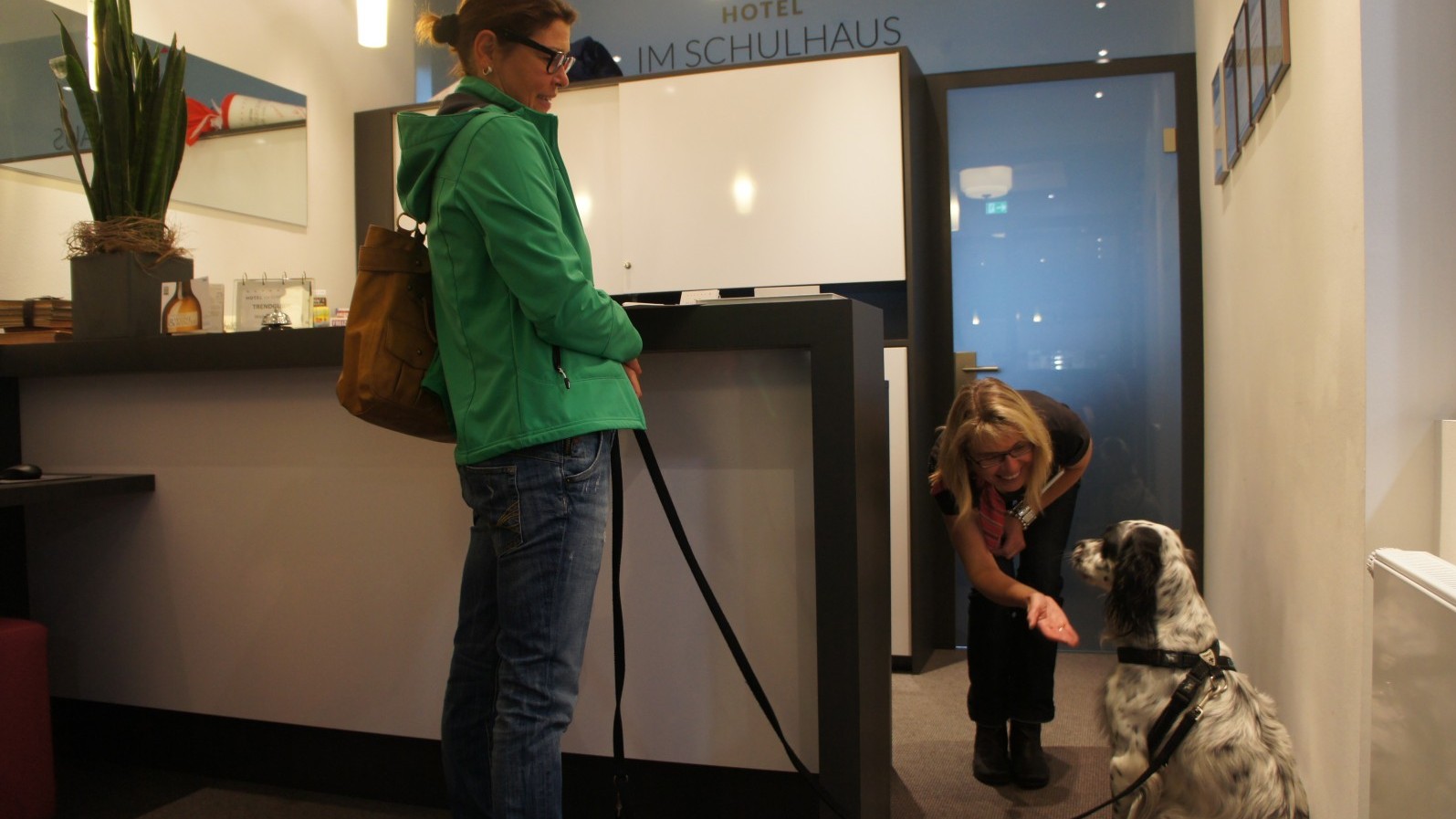 Four-legged friends are welcome
The area Rheingau is one of the most beautiful regions of Germany. Early in the year, spring arrives and warm sunrays in autumn invite you to go outside. For example, into the vineyards or through wide meadows and cool forests, leading across bubbling creeks. In the evening, however, it will get chilly from October on. When this happens, you'll be delighted to move into a cozy room, which invites you to relax. We offer feel-good atmosphere in every area. For the mistress, the master and the best friend of the humans - the dog.
The new ***Shotel became a shooting star in Lorch and the Rheingau area within a short period of time. In this region, the "Rheingau" is still genuine and the guests are thought of with a lot of personal attention. Whether two - or four - legged - all guests are welcome. The real paradise for active people and their well-behaved animal companions is waiting outdoors, but for sure also inside: Among other, the spacious rooms, where pet bowls are waiting for your dog.
Our hotel is the ideal starting point to discover the romantic part of the river Rhine, for hiking or walking through the intact nature and to stop wherever you like. Again and again, you'll meet like-minded people accompanied by their dogs. Because hiking with dogs is increasing its' popularity. As a very dog-friendly team, we're well aware of that. We're well prepared, because we're aware of our guests' wishes and fulfill them with desire & passion. Our offer reaches from a small hiking pharmacy to a washing machine, from a substantial hiking breakfast buffet to weather & route information as well as luggage transfer. Everything's been thought of to make you and your four-legged companions happy. Even a soft cloth is available to clean paws and dog's snouts, when returning from an exploration tour through meadows, vineyards & forests.


We do have one request: Please also think of other guests who are not used to dogs or even afraid. Therefore, we would like to kindly ask you to take your dear four-legged friend in and around the hotel always on a lead. Please don't leave your pets unattended in the property or garden. Dogs generally have no access to the winter garden / breakfast room, we will gladly serve breakfast on our terrace, where your four-legged friend is very welcome.
We charge € 15.00 per dog and night (no food included / max. 1 dog medium size per room).
A few easy steps and your reservation is made! Your booking will be confirmed by e-mail.
Your Hotel in the Rhine Valley
Impressions