Live with wine and for wine
The wine estate Altenkirch and Hotel Im Schulhaus are family-owned partner businesses. Wine and lifestyle go together. At the wine estate Altenkirch in Lorch im Rheingau one perceives that at every turn. And one also sees it - for example at the estate taverns furnished with exquisite taste, where you can taste the range of wines and enjoy Rheingau specialties - under expert guidance.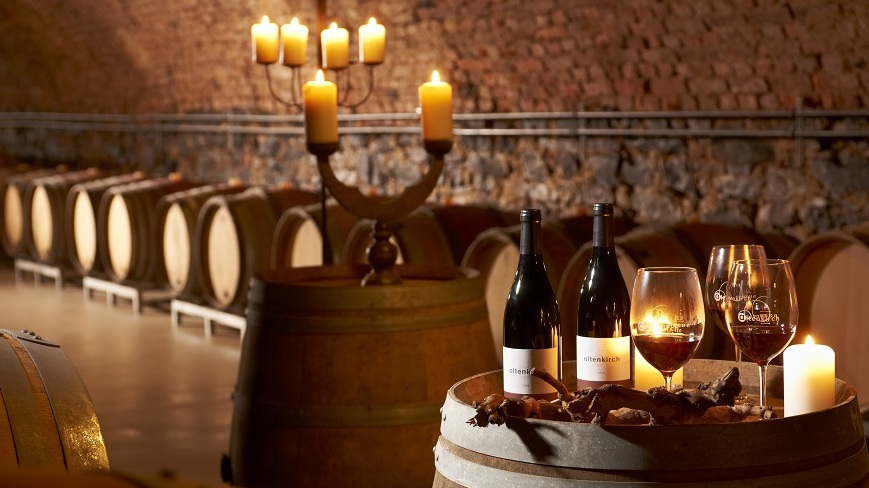 A family business - Wine at the wine estate Altenkirch
The wine estate Friedrich Altenkirch was founded in 1826 in Lorch and taken over in 1935 by the lawyer Dr. Franz Breuer. Today the wine estate is owned by his daughter Franziska Breuer-Hadwiger. She manages the business together with a young team. The manager and cellar master is Jasper Bruysten, whose wine is highly rated by both German and overseas connoisseurs. His aim: to bring into the glass the best quality that nature has granted us. Wine with character, terroir on the tongue.
Tastes great: the estate tavern at the wine estate Altenkirch
Cooking is done with love for the region. The in-house creations are sensitively adapted to the wines of the house and taste according to statements of the guests "simply heavenly". Reservations for groups of 25 or more people are welcome at info@hotel-im-schulhaus.com.
Meetings in the winery & sleep in the schoolhouse
Meetings in a historical atmosphere - this is how casual meeting works. An inspiring environment is crucial to the success of meetings, workshops, offsides and incentives. There is plenty of room for good thoughts at the Altenkirch winery. Click here for our conference offers.
Your Hotel in the Rhine Valley
Impressions