It blooms and grows
24.07.2018 – Everyone praises our beautiful hotel garden - for example in spring, when the first little flowers bloom and then in summer, when everything is green and blooming according to plan, when the herbs smell and the trees spread their green leaves over us. In fall to winter Harald Schmidt, our man with the green thumb, lets everything bloom before the snow provides beautiful white.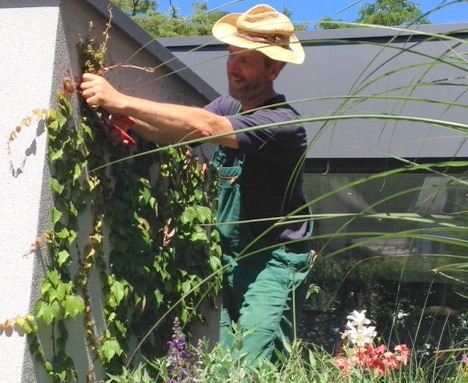 The man with the green thumb
Harald Schmidt knows what he's talking about. He was involved in the planning of our home garden right from the beginning - plant selection, locations, eye-catchers, ground cover, early flowering plants and aromatic plants - all of which he selected and arranged with great attention to detail. Its timing is unbeatable: that's why there are beautiful eye-catchers all year round: Tulips, hydrangeas, lavender or decorative grasses.
The nose is happy about our small herb garden - from which we serve ourselves for the breakfast buffet. Therefore please let stand!
He puts a lot of passion in our garden and is happy if he can pass on his green tips to our guests. Even a small, very personal guide in the garden could make guests with him. Just ask him or ask us at the reception.
And like every gardener out of passion, Harald Schmidt has his favorites. Harald Schmidt is very proud of our old stock: If the big lime tree is in full bloom, then you can not stop looking at it and smell the aroma of this spectacle.
Guests admire and ask about the spurflower and columbine.
The columbine has now spread well by self-seeding, says Harald Schmidt.
But who knows, maybe he had his green thumb in it too.
We are happy about it!