Every year again
25.08.2018 – The pre-Christmas season in the Rheingau is different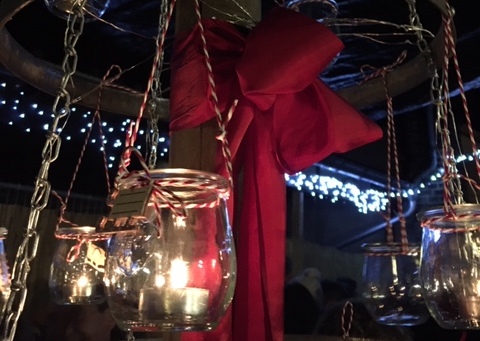 Just too many people, crowds, tight, sweet porridge of tasteless mulled wine cups and far and wide except the ubiquitous Tarte, sausages and Knobi baguettes nothing clever for the stomach. Oh yes, that too: Waiting, always and everywhere pending - even on arrival. Where else is there parking for free? Where can you find something nice for Aunt Betty? Where can you buy Christmas gifts that on closer inspection does not turn out to be "made in ..."?
Welcome to the silence! Now the "natives" are almost among themselves. There is a very special atmosphere in the small Christmas markets, which are organized by the municipalities, the winemakers, the rural women and the clubs. Here she still lives - the anticipation of the Christmas days, which are eagerly awaited. In the self-made booths, on lovingly set tables and shelves, of course, made of wine boxes, are lined up a lot of beautiful things and compete for the favor of buyers. The arts and crafts come from the pottery around the corner, the pillows are hand-sewn, the Teddies stuffs for ever grandmother.
A special highlight are the Advent markets of the Rheingau winegrowers, with homemade specialties, own wines and mulled wines according to old home recipes. From the family treasure are also the recipes for all the wonderful treats that you can buy and enjoy here for little money. Whether Riesling soup, homemade meat dishes or Christmas cookies with lots of good butter in it - it is worth to browse and taste the Rheingau delicacies to your heart's content.
In addition to jams and jellies, spicy dips, relishes and mustards are now being sold. Often there is wine in the game, such as the vin chili, which tastes fantastic to tender chicken breasts. So the Rheingau remains in the best memory!
And here just for you - a small selection of our favorites for 2018:
Advent in the cellar in our winery Altenkirch - 2 December 2018
Traditionally, on the first Sunday of Advent the Lorch Christmas market takes place around the Hilchenhaus.
Advent market at winery Traubenwerk located in Bächergund, Lorch - always on the 2nd Advent - 9 December 2018
Christmas market at Schloss Vollrads - 8. + 9. December 2018
Advent market in the Anchor Mill in Winkel - 2 December 2018
Christmas in Hallgarten wine cellar - 1.-2. December 2018 - 11-18 h
Christmas market in the vineyard Allendorf in Winkel - deadline still open ....
Advent market in the Georgshof 30. Nov - 22. December 2018
Christmas Forum Winery Barth - 24.-25. November 2018
Christmas market at the Brentanoscheune - date still open ....
Winery Baron von Knyphausen, Advent fire with Christmas songs - December 16, 2018 from 13 h
Eltville Christmas market in the heart of the historic old town - 8th - 9th December 2018
Winery Martin, Eltville-Erbach - Mulled Wine Party - 15 December 2018 from 18.30 h