In Vino Veritas
– One thing in advance - it was cold! - BUT VERY FANTASTIC. Yesterday I got up - to the pioneer walk with Robert Carrera. We were promised a pleasure tour. Twenty-five hikers followed Robert's call to explore the new, not yet officially opened, round walk with him. At 13:30 h it started in Lorch - at minus 3 degrees! Not my favorite weather ...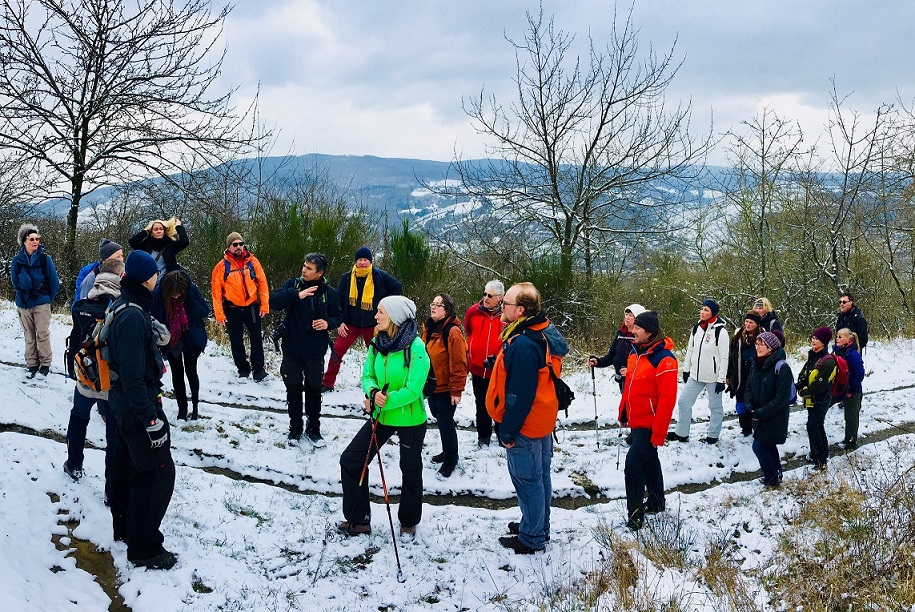 But what followed then - let me forget the weather situation.
The first part of the route took us up on the hill, through the Lorch UNESCO Heritage vineyard to the forest above the vineyards. Not only the small mountain climb has stolen our breath, but especially the beautiful view of the Rhine Valley. After this start, I had warmed up, so the cold did not bother me anymore. After a third of the way, Robert rang in for a little break. He served hot tea, mulled wine (instead of Riesling), fresh pretzels and cheese cubes in a shelter on an exposed trail section with an amazing view - what a surprise! There Robert also revealed what the title of the "In Vino Veritas" trail is all about: in the future, the hiker should enjoy a wine and see the true meaning of life in view of this incomparable landscape. I think that fits!
In order not to cool down, we set off again after a short time. A pity - some Wipertaler "Orignale" had us entertained with anecdotes from the Wispertal. We trudged through the beautiful winter forest to the next striking stop on the edge of the high forest, the "12 Apostles". Unfortunately the temperatures did not invite to another rest, so I memorized this wonderful place for an extended break on a spring hike. From there, the round trip led us steadily downhill. Many forest corridors rewarded our sporting activity with beautiful panoramic views. I was particularly impressed by the view of our little ruin "Burg Schöneck" (picture r.).
The following final stretch through the vineyards, always overlooking "little Lorch", flew by in no time. After about 4 hours, about 10 km, we were back at the starting point - in a good mood and inspired by many moments of happiness!
My conclusion:
MEGA great circular walk in Lorch - a little challenging by the slope initially - really great rest areas - very varied!
On a scale of 1 - 10 - I would give a fantastic 9! Did I make you curious?
Write me! Your Susanne