In a dinghy through the middle Rhine Valley
01.05.2018 – A lot of fun and a great experience for all sports enthusiasts. You should be a bit brave and not too shy if you decide to go rafting.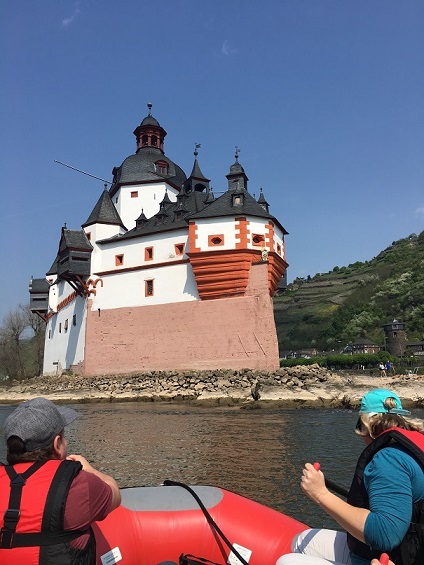 "All in one boat"
After all, the Rhine is a heavily traveled waters with strict traffic rules, which must be observed. This instruction one gets in the briefing before start. And a helmsman is on board who has command at all times.
When Rhine rafting you sit in a stable dinghy, everyone gets a paddle in the hand, the team is distributed evenly left and right and then started on command of the helmsman. Usually you paddle along the track to avoid getting in the way of the big ships, but since you want to see and experience as much of the Middle Rhine Valley as possible, the Rhine has to be crossed at one point or another.
That's the only way to get to the beautiful sandy beaches on the other side. Here is also created and taken a break. A good opportunity to refresh with brought drinks and take photos.
From Lorch different routes are approached. You can participate as an individual, a couple or in groups. The Hotel Im Schulhaus team is happy to organize a tour. Just contact us at the reception. The lunch break for the school trip is of course included.

Have fun! Your host - your schoolhouse team!