In the footsteps of a great church teacher
17.09.2018 – Every year, on the 17th of September, to the right and left side of the Rhine, Hildegard's Day is celebrated in memory of an extraordinary, courageous and wise woman. When Hildegard von Bingen was canonized, the media and, with them, all those who had long been waiting for this act cheered. There was also a celebration in the Rheingau, although here hardly anyone had doubted that the canonization was long overdue. And even that: hardly a woman who came from the other side of the Rhine over to us in the Rheingau, could ever here so much reverence, which comes from the bottom of the heart, claim for themselves, such as "our holy Hildegard".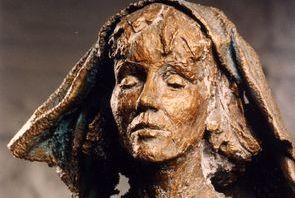 After Rüdesheim, where the Abbey of St. Hildegard can be visited high up in the vineyards and you quickly get into conversation with the living and working Benedictine, the Hildegardistag is a really big number. Many pilgrims come to visit, worship together and join in the procession, singing through the vineyards. Spectators line the streets and bow in their minds to a personality who has also decisively shaped life in the Rheingau.
Here in Lorch you can follow in the footsteps of St. Hildegard walk, or rather wander.
Our lovingly laced package offer "In the Land of the Hildegard" invites Hildegard fans and those who want to be one, the places of activity of the Hl. Hildegard to explore - for example, on the new "Hildegard way", in the two monastery churches or quite relish in the new monastery cafe.
My personal recommendation: If you want to be very close to Hildegard, in prayer or in your thoughts, who would like to experience the fascination of the landscape, from which Hildegard also drew a lot of joy and strength, comes in late autumn. The view from the abbey over the golden sea of vines lets you feel the truly divine power that has inspired and motivated Hildegard again and again.
I also visit the abbey of St. Hildegard and the sisters of the abbey regularly. And most of the time I bring along a book, some delicacies from Dinkel or my beloved Hildegard tea from the monastery shop. Here I also buy for my guests, who expects a small welcome package when booking our package.
And with luck I get one of the much sought after freshly baked breads and share it at home with friends and dear neighbors ...
Yours Susanne Röntgen-Müsel, Hotel Director