Make your day!
Motorcycling in the Wisper valley
30.05.2021 – NOT A GOOD PLACE TO SPEED – To discover the Wisper valley by motorcycle is almost an insider tip. Comfortable cruising on well developed, winding roads along the small river Wisper with relatively little traffic.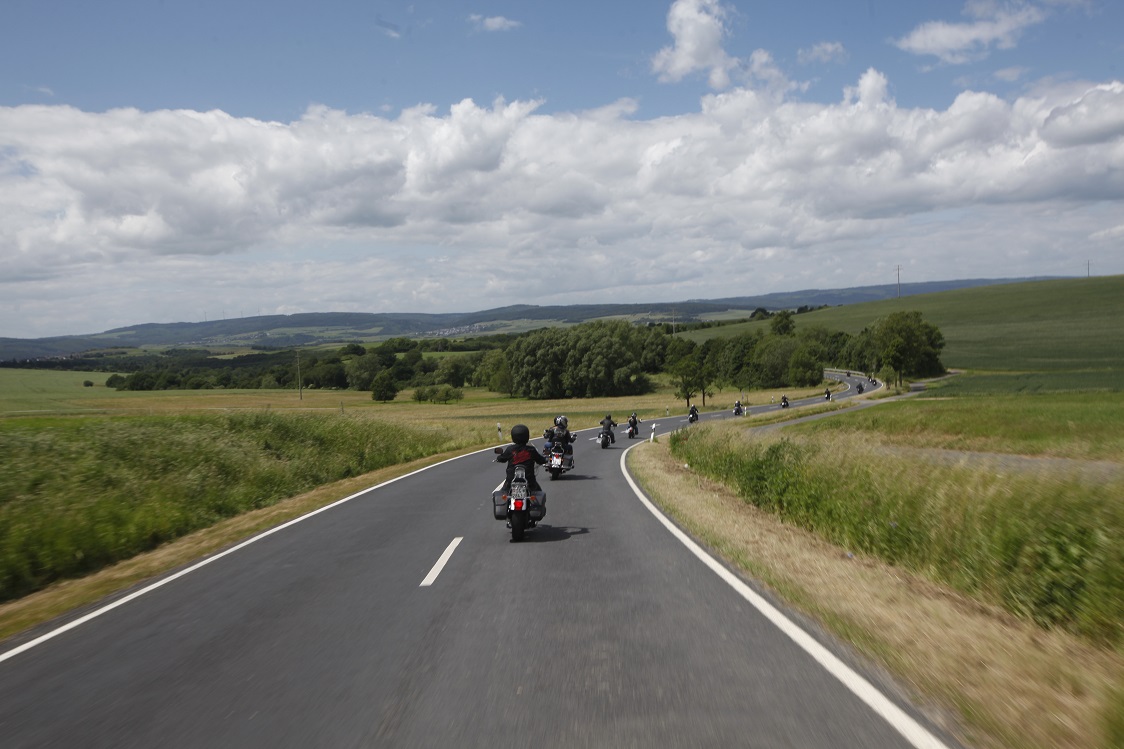 Apart from my passion for hiking I really like to sit on my motorcycle. It's a great opportunity to leave the daily routine behind and to feel the horsepower of the two wheels.
And the best thing is: I don't have to drive far afield, because right at our frontdoor, there're the best motorbike tracks across the Wisper valley. And they're really someting!
To the left and to the right 100-meter-high rock faces bound the street. As the road turns, the valley opens up and suddenly you see meadows and fields.
Unhurriedly you drive along a fantastic landscape. On weekdays, you'll experience little traffic and get the opportunity to look closer to the left and right. Under your helmet fresh forest air streams, accompanied by the sound of the small, crystal clear river "Wisper".
Long, straight roads try to tempt you to press the gas pedal – but beware: the maximum speed is 60km/h. So just unhurried cruising and leaning into the curves with pleasure.
"Relaxed motorcycling and concentration on the essentials: stepping on the gas, shifting gears, brake, lean into the curves, accelerating out. A highly harmonious process while listening to the inner silence." says Egbert Schwartz, independent motorcycling journalist & born in the area "Rheingau".
In case you're hungry: Take a break right next to the route.
Whether you're having a "motorcyclist-Schnitzel" in the restaurant Laukenmühle or a "Bratwurst" in the legendary motorcyclist 'place to be' "Wisperstube" - motorcyclists are very welcome everywhere and meet for talks about gasoline, motorcycles & the best routes.
Motoring experience by motorbike with short trips into the mountains
Fancy a challenge? Do a short sidetrip up to "Presberg". The road is freshly tarred and was annually the venue for a race of the German automotive mountain championship 'till the 1980s. 33 steep inclining bends including 2 hairpin bends challenge your driving skills. You could almost believe that you're climbing an alpine pass. On top, in "Presberg" 400-meter-high - mountain bliss and a fantastic panorama. Similiar to the route from Lorch to "Ransel", which is the annually event "Ransel Classics", a regularity test with more than 40 bends and a 300-meter difference in height.
Fancy a "warm-up"? Just watch this youtube video!
My tip in addition: Avoid the busy weekends!
By the way: we're known as a motorcyclist-friendly hotel. Park your motorbike in our lockable carport (subject to availability) and enjoy many more extras.
I know my way around and have driven all the routes in our region on my motorcycle.
Therefore I would be happy to give you a few tips and look forward to your visit.
Yours sincerely, Marcel